Cosa dicono di noi
Alcune lettere di ringraziamento dei nostri gentili clienti: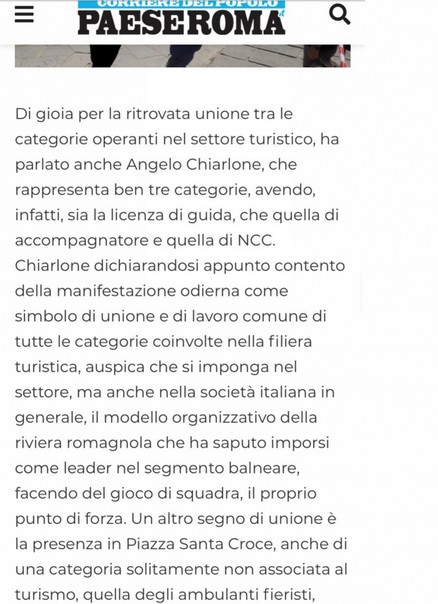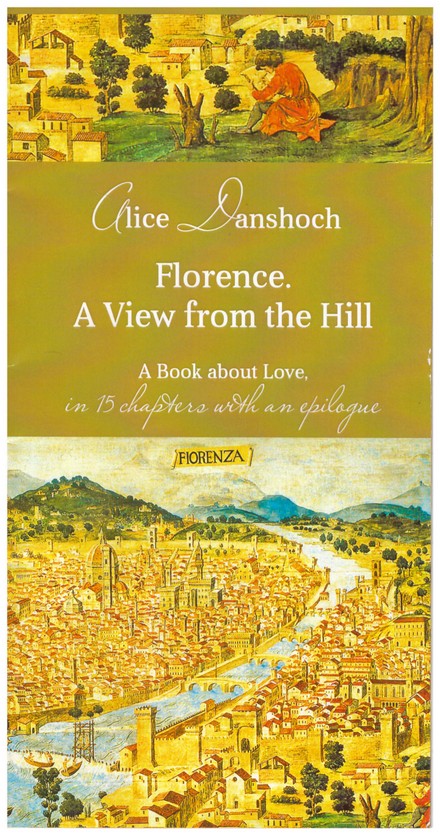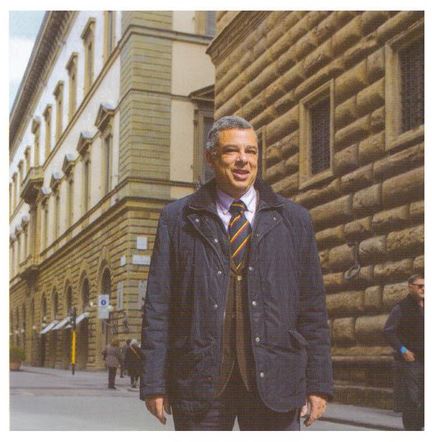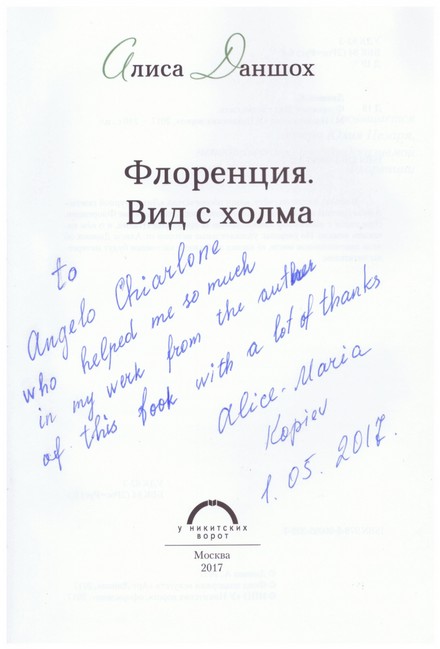 Thank you for looking after us Angelo Chiarlone.
You are a master packer,great driver very etertaining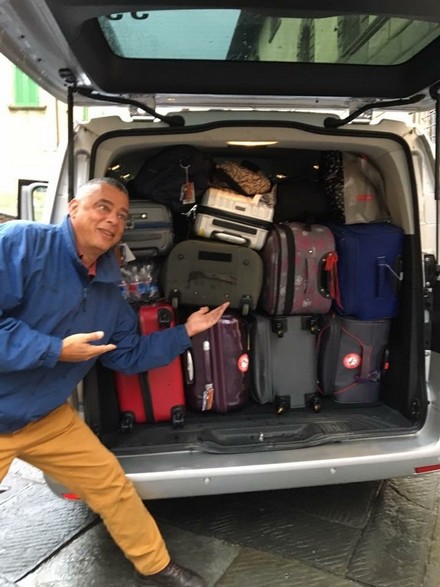 "La Nazione" Newspaper, 12/09/2001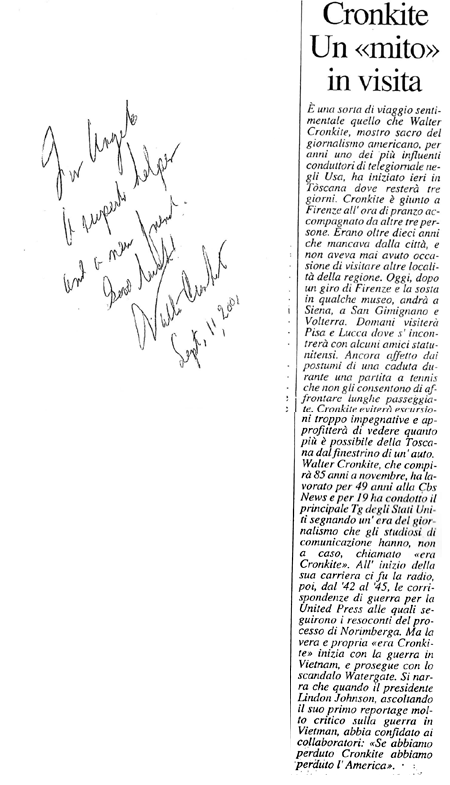 05\23\2016
Thank you so much for the most amazing tour of Tuscany! We didn't know what to expect as we have never been to Italy before, but you went above and beyond to make sure we had an adventure of a lifetime. We loved going to Siena and learning about the Paleo horse race. And the quaint little town on the hill, Monteriggioni. Nick of course loved this as he has seen in so many times playing Assassins Creed :) And lastly, Sangimignano!! What a beautiful city and the view was spectacular. Your knowledge of these areas was so helpful and we learned so much from you.
And we know you were taking a chance with the dinner at the winery, but it turned out to be the most special night we had in Italy. It was so unique and intimate, an experience we have never had or may ever have again :) Daniella and her fiancé, David were the greatest hosts and chefs and made us feel so at home. You definitely need to take other clients there!
Thank you again for a wonderful time and we will be more than happy to send anyone we know going to Florence your way :) And if Olivia comes to Florence next Spring while studying in London, I am sure she will be calling you!
Kris, Kristin, Nick (Clarke Kent) and Olivia (Olive)
DEAR ANGELO: MERRY XMAS TO YOU AND CASSANDRA AS WELL!! AS WE NEAR THE END OF 2015, BOTH JEANNY AND I FEEL VERY FORTUNATE AS WE REFLECT ABOUT OUR ITALY TRIP MADE POSSIBLE BY PEOPLE LIKE YOU AND YOUR COLLEAGUES, PEPE AND MARCO. YOU HAVE ALWAYS ENRICHED OUR LIVES AND TOUCHED THE HEARTS OF ALL IN OUR GROUP. MANY OF THE YOUNG PEOPLE IN THE GROUP CONTINUE TO TALK ABOUT THE TRIP FROM TIME TO TIME AND THE GREAT TIMES THAT THEY HAD. THOSE MEMORIES ARE PRICELESS AND WE CANNOT THANK YOU ENOUGH. WE LOOK FORWARD TO REMAINING IN TOUCH WITH YOU AND SHOULD YOU WISH TO VISIT VANCOUVER ONE DAY, YOU SHOULD KNOW THAT YOU WILL HAVE MANY FRIENDS ON THE WEST COAST OF CANADA!! TAKE CARE AND ALL THE BEST FOR 2016!!!
PETER & JEANNY VANCOUVER CANADA
ANGELO!! MERRY CHRISTMAS. THANK YOU SO MUCH FOR THE WONDERFUL TIME WE HAD IN FLORENCE IN OCTOBER. WE LOOK FORWARD TO A RETURN TRIP SOMEDAY.
BILL, VALERIE, JULIA AND EMILY WASHINGTON USA
THANK YOU, THANK YOU !! ANGELO, JUST GOING THROUGH SOME OF OUR PICTURES OF OUR AMAZING TRIP. YOU WERE A BIG PART OF MAKING IT SO AMAZING!THANK YOU FOR ALL YOU DID.
THANKS FOR A WONDERFUL DAY IN FLORENCE HELLO ANGELO, WE ARE HOME IN LOS ANGELES NOW AND HAD A GREAT CRUISE. OUR DAY IN FLORENCE WAS OUR BEST AND THAT WAS THANKFULLY DUE TO YOU!!. I JUST HAD TIME TO LOOK AT ALL OUR PHOTOS AND VIDEOS( WILL SEND YOU SOON) ...STARRING YOU.... YOU CAN NOW SAY YOU ARE STARRING IN A HOLLYWOOD MOVIE. I WILL BE SHOWING TO ALL MY FRIENDS HERE IN HOLLYWOOD!!!
EPPIE CRUISELAND USA INC. HOLLYWOOD CA. U.S.A.
" HI ANGELO, GREETINGS FROM LONDON. I WOULD JUST LIKE TO THANK YOU SO MUCH FOR YOUR HELP OVER THE TWO DAYS WE WERE PHOTOGRAPHING IN FLORENCE. YOU WERE COURTEOUS AND PROFESSIONAL AND WE WOULD NOT HESITATE IN RECOMMENDING YOU TO OTHERS. BEST WISHES"
MARK AND MARIANNE EARTHY PHOTOGRAPHERS IN LONDON
" DEAR ANGELO, OUR TOUR OF ITALY HAS BEEN WONDERFUL, THANK YOU FOR YOUR PASSION AND HUMOR, WE ARE BETTER FOR MEETING YOU. WHEN YOU HAVE THE COURAGE ASK YOUR WIFE TO COME TO AUSTRALIA . IT WILL TAKE YOU TEN MINUTES TO LEARN THE HISTORY SINCE WHITE SETTLEMENT BUT A LIFE TIME OF AMAZING MEMORIES. CIAO CIAO"
RICHARD AND GENIEVE MATTHEWS. MOUNT WAVERLEY, VIC.
" ANGELO MEETING AND SPENDING TIME WITH YOU HAS BEEN TRULY WONDERFUL. A LARGE PART OF ANY ADVENTURE IS THE PEOPLE YOU MEET ALONG THE WAY. OUR TIME HERE WAS ENRICHED BY YOUR KNOWLEDGE, HUMOR, INSIGHT AND PRESENCE. WE HOPE OUR PATHS CROSS AGAIN" IRA AND MARA FISHER MIAMI BEACH FLORIDA
" THANK YOU ANGELO FOR A VERY INTERESTING TOUR OF FLORENCE. YOU MADE ME APPRECIATE ITS CHARM. I ENJOYED THIS STAY IN FLORENCE A LOT MORE THAN MY LAST ONE. IT HAS BEEN LOVELY TO BE DRIVEN AROUND ALL THE ROADS IN A CAR, WITH SUCH A KNOWLEDGEABLE PERSON. MOST OF ALL THANK YOU FOR COLLECTING MY CARDIGAN IN FLORENCE. IT WAS VERY MUCH APPRECIATED! PLEASE E-MAIL ME YOUR E-MAIL ADDRESS IN CASE WE OR FRIENDS ARE IN ITALY AND WOULD LIKE TO HIRE A PRIVATE GUIDE. I HOPE THAT YOU ENJOY THE WINE. I HAD TO RELY ON ADVICE FROM THE RESTAURANT, AS I AM NOT NORMALLY A RED WINE DRINKER"
" HI ANGELO WE JUST GOT HOME LAST NIGHT AND I WANTED TO DROP YOU A NOTE TO SAY THANK YOU FOR HELPING TO MAKE OUR TRIP TO ITALY WONDERFUL . GIULIA DID A GREAT JOB WITH THE WALKING TOUR OF FLORENCE. IRENE WAS EXCELLENT IN LUCCA AND PISA. YOUR SELECTION OF CASA EMMA FOR OUR VISIT WAS ONE OF THE HIGHLIGHTS OF THE ENTIRE TRIP. WE REALLY APPRECIATED ALL THE INFORMATION YOU GAVE US AND TAKING US TO SIENNA AND SAN GIMIGNANO . WE REALLY HAD A GREAT TIME! THANK YOU AGAIN. BEST
"ANGELO, THANK YOU SO MUCH FOR EVERYTHING. WE HAD A WONDERFUL TIME AND GOT SOME AMAZING SHOTS. PLEASE LET ME KNOW IF YOU ARE EVER NEAR DISNEY AND I'LL BE YOUR TOUR GUIDE THIS TIME. TAKE CARE".
MEDIA AND SERVICES MANAGER DISNEY CRUISE LINE
CELEBRATION, FLORIDA U.S.A.
HELLO ANGELO, JUST A QUICK NOTE TO LET YOU KNOW THAT DONNA OAS AND I SO ENJOYED, MARCO, THE DRIVER YOU SENT US AND ALSO JULIA, OUR GUIDE IN FLORENCE. THEY WERE BOTH WONDERFUL, VERY PLEASANT PEOPLE AND VERY KNOWLEDGEABLE. WE CERTAINLY WERE PLEASED AND WOULD RECOMMEND YOUR SERVICES TO OTHERS. WE ARE SO GLAD EDI BARRILLO SUGGESTED WE CONTACT YOU. MANY THANKS,
BUONGIORNO ANGELO ELIZABETH AND I ARE BACK IN NEW ZEALAND AND JUST WANT TO SAY HOW MUCH WE ENJOYED OUR TOUR WITH YOU. THERE WAS SO MUCH TO SEE IN FLORENCE AND PISA...AND THE WINERY, WHO WOULD HAVE THOUGHT THE WINERY HAD A CONNECTION WITH NEW ZEALAND. FANTASTIC!! YOUR EXPERIENCE, LOCAL KNOWLEDGE AND THAT "JUST RIGHT" LEVEL OF INTERACTION WAS REMARKABLE. YOUR EMAIL COMMUNICATION THROUGH THE INITIAL TENUOUS PLANNING STAGES WAS FANTASTIC. EVERY LITTLE WISH AND QUESTION WAS SORTED AND WE NEVER ONCE FELT LIKE WE WERE BEING A BOTHER. THIS IS SO IMPORTANT WHEN WORKING FROM SO FAR AWAY. WE FELT WE COULD TRUST YOU AND YOUR LITTLE COMPANY FROM THE MOMENT WE FIRST MADE CONTACT WITH YOU. THANK YOU ONCE AGAIN." REGARDS
BRENT AND ELIZABETH JAMES
HI FILIPPO, JUST A QUICK EMAIL TO ALERT YOU ABOUT A GREAT ENGLISH SPEAKING GUIDE VERY WELL VERSED IN ENOLOGICAL CONTENTS AND WITH A VERY PERSONABLE APPROACH TOWARDS GUESTS OF THE CALIBER OCEANIA AND REGENT BRING TO YOU. HE HAPPENED TO WORK FOR US LAST TUESDAY AND IN A DIFFERENT PROGRAM AND GUESTS ENJOYED HIS COMMENTARY AND GUIDANCE THOROUGHLY. IN CASE YOU EVER NEED A TRULY PROFESSIONAL WITH VERY SOUND KNOWLEDGE OF TUSCAN WINES, DO NOT HESITATE AND CALL HIM UP, (I'M TAKING THE LIBERTY OF DISCLOSING YOUR CORPORATE EMAIL TO ANGELO, HOPE YOU DO NOT MIND, FILIPPO!) VERY BEST RGDS TO YOU AND LOOKING FORWARD TO OUR LAST CALL IN LIVORNO NEXT NOVEMBER 14TH,,
DESTINATION MANAGER MS RIVIERA
ANGELO, LISA AND I HAD A GREAT 2 DAYS WITH YOU....THANKS FOR YOUR HOSPITALITY, PATIENCE AND GOOD HUMOR. WE WILL BE SURE TO RECOMMEND YOU TO ANYONE WE KNOW COMING THIS DIRECTION. TAKE CARE! TRAY. TRAY VEDOCK SHAWNEE MISSION,
ANGELO, WE JUST WANTED TO TELL YOU AGAIN HOW MUCH WE ENJOYED THE TOUR THAT YOU GAVE US OF FLORENCE AND PISA. IT WAS WONDERFUL NOT HAVING TO CLIMB UP AND DOWN IN A BIG BUS AND TO BE ABLE TO GO AT OUR PACE RATHER THAN A GUIDE'S. THE ACCOMODATIONS THAT YOU MADE FOR US WERE GREATLY APPRECIATED. WE WILL RECOMMEND YOU TO ALL OUR FRIENDS.
WAYNE AND MARINELLE STAMPER
DEAR ANGELO, WE CANNOT BELIEVE THAT WE ARE BACK IN N.Y., BUT WE HAD A WONDERFUL TIME. WE WANT TO THANK YOU FOR HELPING TO MAKE OUR TRIP A DREAM VACATION. YOU ARE AN EXCEPTIONAL TOUR GUIDE AND WE WERE LUCKY TO HAVE MET YOU. YOUR POSITIVE ENERGY, YOUR CONSTANT SMILE, KNOWLEDGE OF THE ARTS AND FLORENCE , AND SENSE OF HUMOR HELPED MAKE OUR TRIP SO SPECIAL. FEEL FREE TO USE US AS A REFERENCE. WE WILL KEEP YOUR INFORMATION SO THAT OUR FRIENDS/FAMILY CAN CONTACT YOU IF THEY GO TO ITALY.
BENZI,PAM,TAL AND KOBI AXELROD
DEAR ANGELO, I JUST WANT TO EXPRESS MY APPRECIATION FOR THE SERVICE YOUR FIRM PROVIDED TO MYSELF AND MY WIFE DURING OUR RECENT HOLIDAY IN TUSCANY. WE WERE BOTH VERY HAPPY WITH THE SERVICE AND WILL NOT HESITATE TO PASS ON YOUR CONTACT DETAILS TO ANY FRIENDS OR WORK/COLLEAGUES TRAVELLING TO FLORENCE/TUSCANY LOOKING FOR SUCH A SERVICE. SHOULD I RETURN TO TUSCANY AT SOME FUTURE DATE I WILL BE IN CONTACT WITH YOU AGAIN. ONCE AGAIN THANK YOU FOR MAKING OUR STAY IN TUSCANY VERY ENJOYABLE. REGARDS.
ANGELO COME VA? I REALLY MEANT TO EMAIL YOU WHEN WE GOT BACK FROM OUR LOVELY TRIP AND TELL YOU HOW MUCH WE ENJOYED MEETING YOU AND BOMBING AROUND IN YOUR VAN.... THE WINE TASTING IN PARTICULAR STANDS OUT AS A HIGH POINT, AS WAS THE WINE WE BOUGHT THERE AND WITH YOU. OF COURSE, YOU LIED TO ME ABOUT AMALFI NOT BEING WINDING CURVY ROADS!!! BUT THE LOVELY LUNCH TOMMASO TOOK US TO AND THE VIEWS MADE UP FOR YOUR FIBBING !!
TRINIDAD AND TOBAGO WEST INDIES
SINCE WE HAD BEEN TO FLORENCE BEFORE, WE HIRED ANGELO ONLY FOR ROUND TRIPS FROM LIVORNO TO FLORENCE. HOWEVER HE TOOK US TO PIAZZALE MICHELANGELO FOR A PHOTO OP, AND OFFERED TO TAKE US TO SEE THE DAVID. ON THE LONG DRIVE TO AND FROM FLORENCE, ANGELO WAS VERY INFORMATIVE AND FUN. IN RETROSPECT, WE SHOULD HAVE TOURED WITH HIM. ANGELO MET US PROMPTLY, WITH A CLEAN, NICE, COMFORTABLE PASSENGER VAN. SINCE HE IS A GRADUATE OF BOSTON COLLEGE, HE IS VERY FLUENT IN ENGLISH AND OTHER LANGUAGES, KNOWLEGDEABLE ABOUT THE HISTORY OF HIS AREA AND ALSO CURRENT EVENTS. WE ENJOYED HIM IMMENSELY. HE IS A GREAT GUIDE AND A WONDERFUL MAN!. AT THE END OF OUR TOUR WE FELT LIKE WE HAD MADE A NEW FRIEND.
GREAT MEETING YOU. EVERYONE HAD FUN TODAY. JUST WISH WE HAD MORE TIME AT EACH PLACE....NEXT TIME I GUESS.