Transfers
Our Company also provides transfers from your accomodations to airports, train stations, or any other italian or european destination. 24 hours a day, 7 days a week, 365 days a year.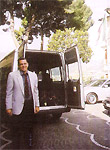 All at the most convenient prices and comfortable travelling- standards. If you want to make your transfer from city to city a way of also discovering a few special towns on your way, we encourage you to call us up and find out about our special rates for transfer with stops.
What is the hurry to get to your next hotel. Nobody is running behind you, so take the time to enjoy those unique villages which you would be missing if taking a train. Sure, if you are travelling as a couple the train might be cheaper, but think of the wonderful unique stops you would miss.
Sure, if you think the train's caffeteria is worth giving a try, go ahead, but don't say we did not warn you......